London may have a PR problem. Its biggest-spending visitors are boycotting the city over some targeted violence against their countrymen. Hammer-wielding attackers and masked thieves have carried out two brutal and violent attacks against Emirati citizens in Britain's capital in the past month. As a result, United Arab Emirates social networks are ablaze with fear and concern, discouraging citizens from traveling to the U.K.
In early April, attackers burst into a posh central London hotel room shared by three sisters on a trip to London. One lost an eye and now has severely limited brain function, while the attackers left the other sisters with a broken arm, fractured skulls and a ruptured eardrum.
Several days ago, another UAE family was attacked in their holiday apartment. The wife was held at gunpoint as the gang of robbers gathered the couple's valuables and attempted to stab the husband.
Emiratis are poking fun (above) at how dangerous travel to London has become for them, but the results of that ill will may have a very real impact. Gulf tourism to the U.K. has long been a cash cow for the British economy. Wealthy tourists from the Gulf are the biggest spenders among vacationers in Britain, according to a survey conducted by U.K. tourism agency VisitBritain. Their ostentatious wealth is likely to make them a visible target for petty thieves. In total, 50,000 Emiratis visit the country each year, particularly in the summer, when temperatures back home are unbearable. But social media trends suggest that Emirates' tourists are now thinking twice about escaping the Middle Eastern heat in the U.K. A recent poll carried out by the UAE-based newspaper Al Roeya stated that 76.5% of Emirates no longer favor traveling to the U.K., and warnings from British police won't help, either.
1/4: Twin attacks on #Emirati families prompt UK police to caution London visitors http://t.co/FdfUlsW6ze http://t.co/zdSLcqzPpJ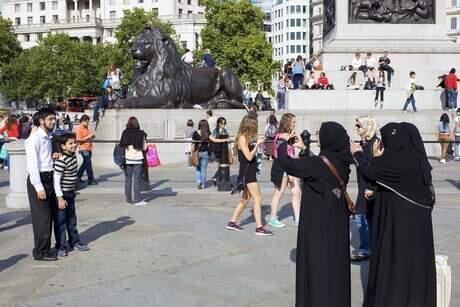 The criminal incidents and the subsequent social media uproar also threaten to potentially dent the strong business ties between the U.K. and the UAE. Today the Emirates is the U.K.'s largest export market in the Middle East. The business ties are especially high-profile in the world of football. The London-based premier league Arsenal football team is based in the sprawling "Emirates Stadium" North London, and along with other popular football teams in the country, it is heavily sponsored by businessmen from the UAE. (It may be particularly bad for West Ham United, given the club's nickname—the Hammers.) Because of the use of hammers in the attacks, they feature prominently in much of the criticism online, with users renaming London as "the city of bleeding hammers."
The user below tweeted: "[I would rather have] the flames of Al Ain in the day and not the hammers of London at night," referring to a Dubai building that caught fire during construction last year.