After its epic journey around the world (including outer space), the Olympic torch has arrived in Sochi amid final preparations for the opening ceremony later this week.
Sochi organizers have already promised an "incredible show" on Friday. The exact program has been kept a secret, but some details are starting to leak.
Those who managed to sneak a peek of the grand rehearsal at Fisht Olympic Stadium say it will feature ballet and even a car show. Blogger Rustem Adagamov posted a photo of the stadium on Twitter, saying that "nothing looks clear," though it's obvious that there will be no shortage of glamour.
Шпионское фото с репетиции #сочи2014. Ничего не понятно. http://t.co/YMPDm6aQQc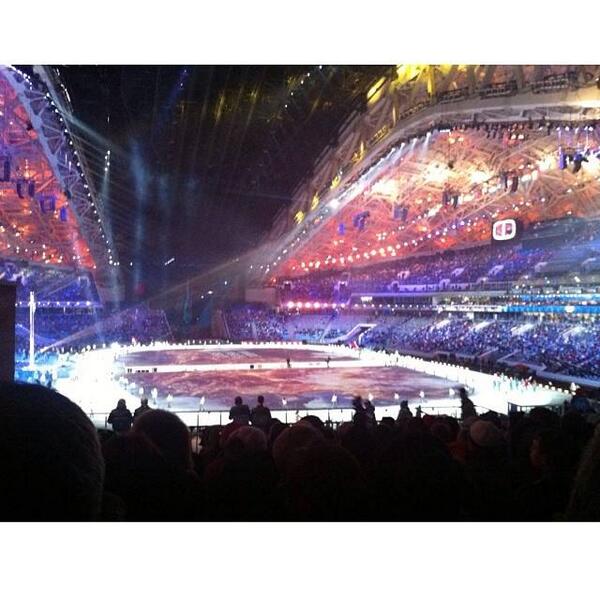 No one has been allowed to film or photograph the ceremony, but some photos of the rehearsal still wound up on the web. Judging from this snapshot, the ceremony will include trippy imagery from Russian folklore, as well as hovering onion domes.
Ironically, the opening ceremony will reportedly include a performance by the Russian band t.A.T.u., a pop duo that became famous for their lesbian-themed music. (Remember, this has been billed as perhaps the most homophobic Olympics yet, thanks to Russia's anti-gay legislation.) The girls have long since split up as a band. They've pursued solo careers and have even gotten married. But the Sochi ceremony is supposed to bring the fake lesbians back together for one of their hit songs, "Not Gonna Get Us" (performed in Russian).
The two burning questions: Will we see their signature kiss? And is this a political effort to shift focus away from Russia's anti-gay policies?
Other key musicians believed to be performing at the event are viola player Yuri Bashmet and conductor Valery Gergiev. World-renowned pianist Denis Matsuev has made no secret of his participation, saying: "For sure, I am participating in the Olympics. But how? I will not disclose secrets. Naturally, I will play the piano and root for our athletes."
TV journalist Xenia Sobchak has also alleged that Alina Kabaeva, Russia's retired gymnast and Vladimir Putin's current paramour, will be given the honor of lighting the Olympic torch. A witty post making the rounds on Facebook asks: "And what have you done for your girlfriend?"
As tradition prescribes, the Russian flag is to be carried by Valentina Tereshkova, the first woman to have flown in space.
"I can assure you that Russians will organize an outstanding show," Mark Adams, press secretary at the International Olympic Committee, told the press on Sunday. They better: After all, the games cost the country about $51 billion.