Heads up, Cuba. The muscular, mohawk-sporting Maxim Martsinkevich, head of fascist "Okkupay" groups in Russia that track and beat up anyone they consider aberrant, has left the motherland for Castro's tropical socialist paradise.
Maxim, also known as "Tesak" (Russian for cleaver), bounced to Ukraine first, and is now in Cuba. Russian news site Life News ran an interview with him Wednesday.
Russian television channel '#Lifenews' interviewed declared wanted russian #fascist - Maxim Marcinkiewicz http://t.co/ZHUYBq5XB8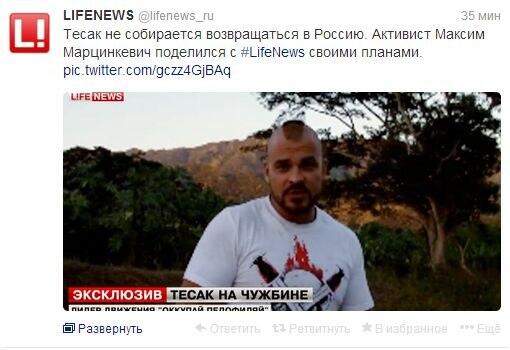 Given that he took his rather intimidating campaign for "traditional values" on a road trip to various cities in Ukraine, shaving reverse mohawks into the heads of "suspected pedophiles" who really just looked like sobbing, scared young gay men, we can assume that he may start similar work in Cuba. But his time is running out.
According to posts on Martsinkevich's VKontakte social networking page, he was in Cuba as early as Dec. 10. According to the visa agreement between Russia and Cuba, Russians are allowed to stay without a visa for 30 days. That means he either needs to get a visa now, stay illegally or leave. And he says he doesn't have the money to fly home.
how we know
We follow Maxim and the groups that he organizes via social media sites, specifically VK.com and Twitter. 
In a post on his blog today, he talks about flying from Kiev to Havana via Frankfurt, and expounds on the lack of virtues of the German airport. Martsinkevich does not find German women attractive. He says nothing about his visa situation or future travel plans.
Border Crossing
Ukraine, the previous country Martsinkevich visited, also has visa-free travel agreements with Russia. He also geo-tagged some photos of himself as being on a beach in Thailand.
As for his reasons for leaving his homeland in the first place, here's a translation from Russian, straight from the horse's mouth, taken from an online post Christmas Day with the following picture:
"Attention! Official dispatch from Freedom Island (i.e. Cuba)!
An offer regarding the investigation and trial.
The case against me is very unusual. There are no victims. No damages. The investigation was done by incompetents. The crimes were committed virtually. I was charged without being present. I was arrested in absentia.
Contrary to Interpol statutes, there has been an international arrest warrant issued in my name. I do not recognize my guilt. I am currently in Latin America and do not have the money to return to Russia.
Given the above and thinking logically, I ask the following:
To hold the questioning and trial in the open for the mass media to observe, with me being present via Skype. In case of conviction, I offer to serve the prison term virtually, by placing an avatar behind bars for the amount of time designated by the court.
That would be fair and just, and would help bring about legal innovation.
If you agree, repost this message.
Sincerely, Maxim Martsinkevich"
Letter of the Law
Here's a Russian government letter leveling criminal charges against Martsinkevich. The document cites him for posting three videos that smack of extremism on his social media page. The first video advocates for the deportation of all Russian residents of Caucasian origin. Done in a faux-political campaign style, it blames all of Russia's problems—from traffic to crime, drug dealing to corruption—on Caucasian immigrants. The second video is a review of a movie about soccer hooligans where the moral of the film, according to Maxim, is: if a guy won't fight against Caucasian immigrants, he's not only a homosexual, but will also have sex with his best friend's girl. The third video reviews a film about Stalingrad, where Maxim says he rooted for the Germans because he, "plays for a different team," pointing at his shirt emblazoned with the number 88, a popular neo-Nazi abbreviation for the "Heil Hitler" slogan.
The Russian government charged him with extremism in early November, but not before he had beaten and poured urine on various men, filmed it and posted it online in a vigilante quest that lasted for months. A 24-year-old participant on Ukraine's version of The X Factor even claimed to be one of the men intimidated and humiliated in front of cameras.
Had Martsinkevich not gone to Ukraine and done the same thing (he was facing a criminal case for hooliganism there already) authorities may have let it continue unabated.
Also on Vocativ: Russian Neo-Nazis Are Baiting And Beating Gay Teens In A Twisted Take On "To Catch A Predator"
As it stands, on Dec. 13, Russian authorities arrested him in absentia.
It's not the first time Martsinkevich's antics have landed him in trouble with the law. He was imprisoned in 2007 "on suspicion of inciting hatred" and spent three years in prison before rejoining public life and almost immediately starting his hate campaigns again. But from 2011 on, his various bullying activities went unpunished.
relics of a bygone era
Frequent trials and convictions in absentia are a vestige of the Soviet criminal justice system, where they were frequently used against political enemies. More recently, Putin has continued the long-established trend, with his convictions of oligarch Boris Berezovsky and security service whistleblower Alexander Litvinenko.
The current charges of extremism are for inciting hatred and "humiliating human dignity" under Article 282 of the Russian criminal code, and could lead to up to five years in prison.
Not content with sexual bigotry, he's racist to boot. "Even this Cuban negro," he says in a VK picture caption. Martsinkevich may find himself at home in a country enduring an ongoing debate over race, where Cuban blacks still face social, political and cultural discrimination.
So how gay-friendly is Cuba, and how welcoming will they be of their new import?
Gay rights advocates have made progress in the country in the past few years, and have a high-profile ally in Mariela Castro, daughter of Cuban President Raul Castro. Same-sex marriage is not legal, but before 2008, gay rights marches weren't even allowed. Thanks in part to Mariela, the Cuban parliament updated the Labor Code in December 2013 to include protections for people of various sexual orientations.
Also on Vocativ: Johnny Weir Faces Off With LGBT Activists Over The Sochi Olympics